Horasis Global Meeting
I was fortunate enough to be a panel member at a recent Horasis Global Meeting. I was commenting on social capitalism, why I thought it was important and what would the future look like.
When I talk about social capitalism, there is the inevitable question "What is social capitalism, and do you have any examples?" Speaking at the panel, I drew on an example of Bournville, a village that was built by the Cadbury's company for the benefit of its workers, providing them with housing, medical and educational resources.
If I am honest, I had only heard about the town by word of mouth. There was a danger of "Chinese Whispers" meaning that I did not have my facts quite correct. I thought it only proper that I read up on this topic and make sure that my understanding is correct and provide us all with a little more detail.
As a panel member at the Horaris Global Meeting, I gave an example of Social Capitalism, saying:
"There is a town near Birmingham called Bournville that was built by Cadbury's – the chocolate manufacturer. They knew that if they did not look after their staff, they would not be able to attract and retain staff, which would affect their ability to be able to produce chocolate. So, they provided housing, schooling and education for their employees and their families."
The History of Bournville
Thankfully, my understanding was broadly correct and the Bournville story does serve as a good example of social capitalism. However, my brief comments only scratch the surface of the full story.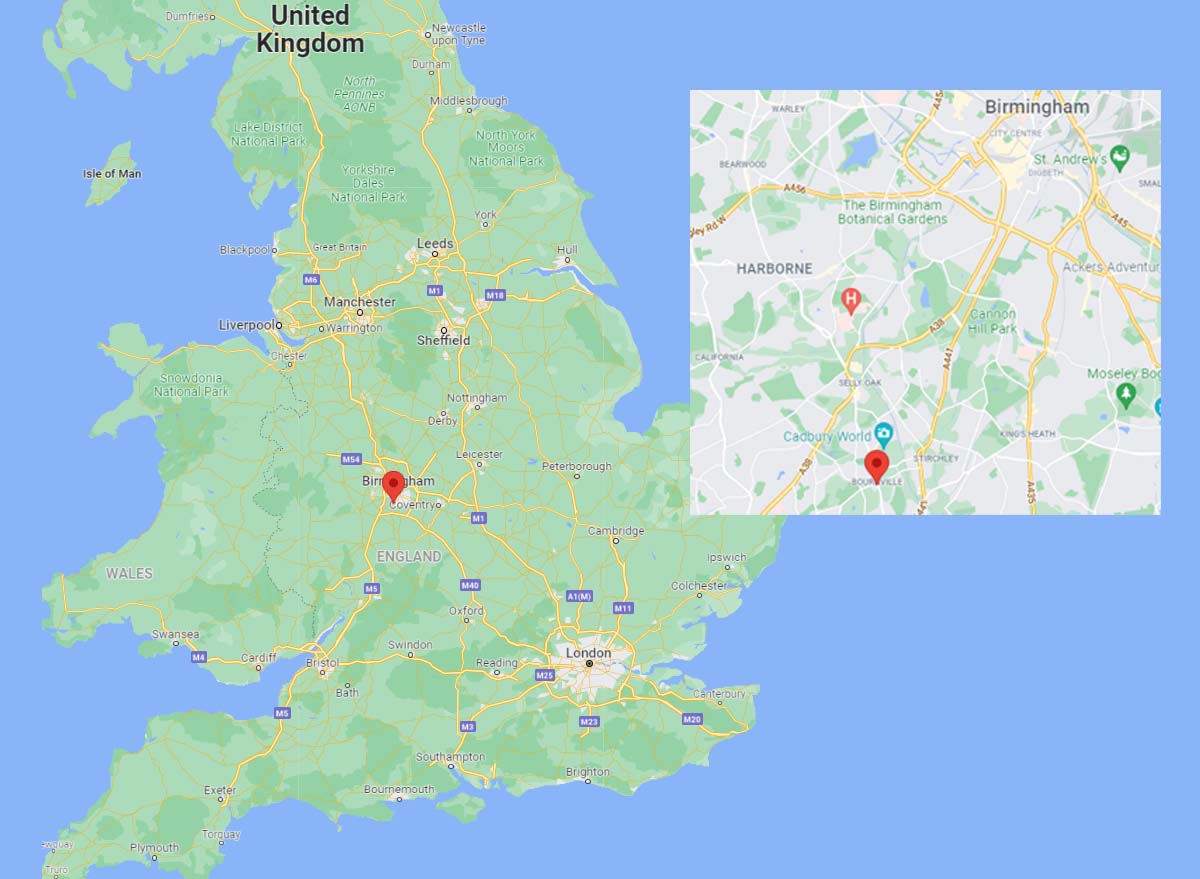 The location of Bournville in England
Image credits: Google Image
Bournville is located in the middle of England, Southwest of Birmingham. The town was founded by George and Richard Cadbury in 1879 when they moved the business from its central Birmingham location to a greenfield site that provided the facilities that they required to meet their business expansion plans. The area was also cleaner and healthier than their current location. They named the area Bournville after the river Bourn and 'ville', which is French for town.
Cadburys initially developed their factory on this new site but, even at this time, they were providing examples of what we now consider to be social capitalism. They treated their workers with respect, paid them well and provided a pension scheme and medical services. In return, their workers were hard-working and loyal.
George Cadbury, at his own expense, bought another 120 acres of land in 1893. By 1900, the estate had grown to 330 acres, on which 313 houses and cottages had been built, with more being added in the run up to the First World War.
The Cadbury family demonstrated their commitment to their workers by looking after their health and fitness. The Bournville village included parks and recreational areas and swimming and walking were encouraged.
The estate was further extended in the 1920's, with football and hockey pitches being added, along with other facilities including a running track, a bowling green, a fishing lake, a boating lake, a cricket pitch and an outdoor lido. The lido was fed from a natural spring, which provided healthy waters. All of these facilities were provided free of charge for Cadbury employees and their families.
No pubs have ever been built in Bournville, as the Cadbury family were Quakers, and Quakers are teetotal, as least from the early 1800s. Prior to this, it was common to drink beer as the water supply was so polluted.
The Rowheath Pavillion was opened in 1924 and was initially used as a clubhouse and changing rooms for the many sports facilities that were available. A member's only bar was opened in 1940 and is now open to the general public. The Rowheath pavilion is still in use today, primarily as an events venue such as for weddings and corporate events.
Rowheath Pavillion at Bournville
Image credit: https://commons.wikimedia.org/wiki/File:Rowheath_Pavilion,_Bournville,_Birmingham.jpg (CC BY-SA 2.0)
The Bournville trust was established in 1900. This was independent of the Cadbury family, with the trust taking responsibility for controlling the development of the estate. It also focused on providing public services such schools and hospitals and has responsibility for considering planning applications as Bournville is a conservation area.
Education at Bournville
The Day Continuation College was established in 1925, in a building on the Bournville Village Green, at a cost of £30,000. The college was for the benefit of young workers (14-18 year olds), who had to spend part of their working week at the college. In 1929, following the retirement of the headmistress of the girls' school, the headmaster of the boys' school took over both schools, leading to the introduction of mixed classes.
Attendance at the college was a compulsory element of Cadbury's young employees, with girls up to the age of 17 being required to spend two and a half days each week at the college.
The central aim of the college was personal development and can be seen as a forerunner of Continual Professional Development and/or Lifelong Learning, which are so much in vogue today.
In a letter to The Guardian (4 Oct 2019), Mary Geffen said:
"The Bournville experience was a model for the Ministry of Education when further education colleges were developed during the 1950s and 60s."
All because a lady loves Milk Tray
We cannot leave an article on Cadbury's chocolates without mentioning their iconic advert campaign, which first appeared in 1968, and had the tag line "And all because the lady loves Milk Tray". The television advert, which had various story lines, with the common theme of a man dressed in black going through a series of dangerous acts, such as swimming with sharks or skiing ahead of an avalanche, just to deliver a box of milk tray to the lady he loves. The video below is typical.
Cadbury World
Similarly, we cannot fail to mention Cadbury World. This is a visitor attraction, based on the Bournville site, which tells the history of chocolate and the Cadbury business. It was opened in August 1990 and attracts over 500,000 people each year.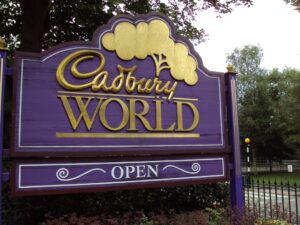 Cadbury World in Bournville
Image Credit: https://commons.wikimedia.org/wiki/File:Cadbury_World_sign,_Bournville.JPG (CC BY-SA 3.0)
Bournville Chocolate
What is Bournville chocolate?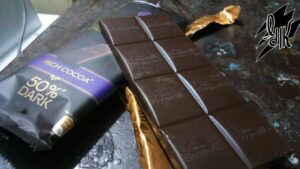 Bournville Chocolate
Image Credit: https://commons.wikimedia.org/wiki/File:BOURNVILLE.jpg (CC BY 4.0)
The Cadbury company make a wide range of chocolate products. Bournville chocolate is their dark chocolate (as opposed to plain chocolate). It was first sold in 1908, being named after the Bournville factory, where it was made.
Finally
The Cadbury family provide an excellent example of social capitalism. That is operating on a profit- based model, but giving back to their employees, and their families, which leads to a loyal and happy work force.